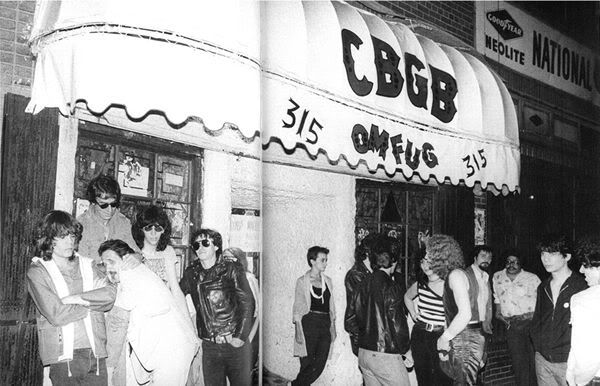 Aperto nel 1973 al 1315 della Bowery Street di New York, ha chiuso i battentinel 2006. E' il leggendario
CBGB
, il tempio del punk americano. In quel club è nata l'avanguardia Usa degli anni '70, e di tutto quel che ne e' seguito.
Oggi è parte di un locale più ampio, la boutique dello stilista John Varvatos che l' ha inglobato, e che ne ha comunque conservato le caratteristiche essenziali, come i bagni le cui mura sono totalmente ricoperte di scritte e graffiti. Presto inizieranno le riprese di un film dedicato interamente al Cbgb diretto da Randall Miller, con Taylor Hawkins, batterista dei Foo Fighters, nei panni di Iggy Pop, e l'attrice Mickey Sumner in quelli di Patti Smith.
Gli anni passano, i tempi cambiano.. Lo sa bene Tommy Ramone, batterista originario dei Ramones, la band che piu' di tutte ha contribuito alla trasformazione del Cbgb in una delle icone più significative della storia del rock. . Con i primi tre dischi i Ramones spazzarono via tutto quello che il rock aveva sfornato fino ad allora, eliminando tutto il manierismo e la pomposità dei gruppi '60 e '70, i lunghi e noiosissimi assoli: misero il punto su come doveva essere il rock'n'roll dei padri fondatori, portandolo nell'era moderna alla velocità della luce. Anni fa i Ramones erano l'anti-esblishment. Adorati in Europa e Sud America ma snobbati e maltrattati in patria, oggi sono un marchio multimilionario: t-shirt, felpe, cappelli e quant'altro indossati da tanti senza sapere esattamente chi fossero i Ramones. Oggi Tommy Ederley (Ramone), che abbandonò la band per motivi di salute dopo quei primi grandiosi tre dischi per passare alla produzione, unico sopravvissuto dopo la morte di Johnny, Joey e Dee Dee, ha prodotto, tra gli altri, Tim dei Replacements, suona chitarra, mandolino e banio nel duo bluegrass Uncle Monk con Claudia Tienan.
Richard Lloyd (Television)
ll chitarrista col volto d'angelo dei Television abita ancora ha New York e fa ancora il musicista (il suo disco solista piu recente è uscito nel 2009). Ha lavorato anche come produttore comparendo alla chitarra nei Rocket from the Tombs. Informazioni su tutti i suoi lavori sono su ww.richardlloyd.com, insieme alla sezione 'Ask Richard', dove risponde alle curiosità dei propri fan. Su youtube, le sue lezioni di chitarra: da anni insegna a New York in uno studio tutto suo, dando consigli sulla tecnica, con
un approccio

molto

singolare

allo strumento,

condito con le sue meditazioni

sulla vita

, la filosofia e

la

natura dell'universo

.
Tom Verlaine (Television)
Dal canto suo Tom Verlaine. un vero e proprio recluso della new wave, frequenta librerie e biblioteche, non rilascia interviste. Ha annunciato una possibile reuniuon dei Television con un quarto album, di cui molto si era parlato in passato.
Richard Hell (Neon Boys, Television, Heartbreakers,Voidoids)
Dopo i Voidoids ha inciso a nome Dim Stars con Thurston Moore e Steve Shelley dei Sonic Youth. Oggi é dedito prevalentemente alla scrittura di romanzi (tre finora), poesie e critica rnusicale. Ha recitato anche in Cercasi Susy disperatamente. Il suo "look" ha ispirato buona parte dell' iconografia punk.
Dick Handsome Manitoba (Dictators)
Bastano dieci minuti a piedi dal 315 della Bowery, per scovare un altro rocker storico del Cbgb, cresciuto a pane, macchine e ragazze. Dal 1999, Manitoba voce dei Dictators, gestisce un bar a suo nome ne1l'East Village, sulla Avenue B, orgogliosamente tappezzato di fotografie che lo ritraggono insieme ai suoi clienti pin celebri. Quando non è dietro at bancone, Manitoba conduce un programma radiofonico satellitare su Sirius XM, dove staziona anche
Little Steven
, in duplice veste di conduttore e produttore. (ascoltabile qui
http://www.siriusxm.com/undergroundgarage/weeklyschedule)
. Oppure, continua ad aazzuffarsi con qualche rivale. L'ultimo malcapitato è Dan Snaith, portato in 'tribunale per aver osato appropriarsi del nome Manitoba (poi cambiato con Caribou)
Wayne Jayne County (Electric Chairs)
E a proposito di risse, una delle più celebri é quella tra Manitoba e Jayne County, la trans del punk Wayne County, e convertito (di nome e di fatto) in Jayne. County, la cantante degli , Electric Chairs possiede un sito (www.jaynecounty.com) ricco di informazioni con un blog molto vivace, il cui contenuto varia da riflessioni politiche a immagini un pò sopra le righe e la sezione per il merchandising.
Continua saltuariamente a suonare con Martin Rev, secondo componente dei Suicide. ll suo amore principale, però, é oggi la scultura, che lo porta ad esporre in giro per il mondo. Ha esposto anche al Moca di Lione.
James Chance (Contortions)
E ancora attivo con una versione tutta francese dei Contortions. ll suo sax indomabile non conosce sosta e la sua fama di entertainer lo precederà fin quando sarà in vita.
Cheetah Chrome (Dead Boys)
E' stato il chitarrista di una delle band più potenti del Cbgb e del e punk Usa. Sonic Reducer è anoora oggi un inno. Ex Stilettos, collaboratore di Ronnie Spector, su Siren, il disco solista dell'ex Ronettes e ex moglie di Phil Spector, ex Rocket From The Tombs, nel 20l0 ha colpito con il libro Cheetah Chrome: A Dead Boyk Tale the Front Lines of punk rock, tra le memorie più ficcanti dell'era del punk.
Peter Zaremba
(Fleshtones)
I Fleshtones debuttarono al Cbgb il 19 maggio1976, e nel dicembre 2003 suonarono alla gran festa per il 30 anniversario del locale con i Dictators, gruppo parallelo ai Fleshtones. Il loro super-rock, preso in prestito dal sound garage degli anni '60 da band come Animals, Syndicate of Sound, Beatles, Kinks e Yardbirds, è ancora in giro per il mondo e suona sempre fresco e vitale. Peter ha scritto per la colonna sonora di I was a teenage zombie e quando non è in tour scrive per riviste e giornali, non musicali: "Scrivo di posti dove sono stato e di cibo, cose piacevoli per chi va in viaggio di nozze ... Davvero!"