Mick Jones che abitava con la nonna Stella, e la maggior parte della LP d'esordio The Clash fu scritto proprio al 18 ° piano del grattacielo a Harrow Road, nell'appartamento di proprietà della nonna di Mick, che regolarmente si presentava ai concerti Clash!
Mick che dedica Stay Free in Give 'em Enough Rope a Robin Crocker, alias Robin Banks, arrestato per rapina a mano armata e condannato nel carcere di massima sicurezza nell'isola di Wight; Mick Jones che rubava vestiti a Carnaby Street per i Delinquents, la sua prima band e poi per i London SS, sinistro nome del gruppo in cui militava anche Paul Simonon; Mick che finalmente arriva a formare i Clash dopo l'ingresso nei The Young Colts di Joe lo strimpellatore, Joe Strummer.
Quando Strummer convocò la riunione nel 1982 per licenziare il batterista Topper Headon per la sua inaffidabilità a causa dell'eroina, lo stesso Headon e Mick piangevano. Strummer, presto avrebbe sparato il proiettile di troppo proprio contro Jones:
una delle immagini più tristi viste sullo schermo è proprio quella di Mick che in The future is Unwritten descrive con amarezza di come venne sbattuto fuori dai Clash da Bernie Rhodes, che voleva sostituirlo con Steve Jones dei Sex Pistols e dal buon Joe, accusato poi sempre nel film da Don Letts di profonda codardia. Alla fine,
Strummer che era figlio di un diplomatico e che era cresciuto in un relativo benessere, sognava di essere Woody Guthrie, mentre Mick, cresciuto negli appartamenti comunali, desiderava essere una rock star: tutto è venuto a galla quando la furia di Strummer
ha incontrato l'ambizione di Jones.
Mick che scrive Should I stay or Should I go pensando ad Ellen Foley, cantautrice americana che ebbe parte rilevante in uno degli album più venduti negli States: Bat Out Of Hell dei Meatloaf.
Fu Mick che volle Train In Vain come una delle prime ghost track su vinile per London Calling.
Mick che cercò di insegnare a Paul Simonon a suonare la chitarra, ma Paul proprio non riusciva a capire i meccanismi della sei corde, così passò al basso perche <<è più facile e poi ha solo 4 corde>>..
Mick su Joe Strummer
: <<Quello che è importante per me è quello di portare avanti quello che ho fatto con i The Clash e cercare di rimanere fedele a quella idea originale. ... Joe è con me tutto il tempo si sa. .. E 'qui stasera con me in questo momento ed era con me quando sono andato sul palco e suonato stasera. Lo sento in tanti modi.. >>
Su Sid Vicious
: <<Era un bel ragazzo intelligente - e nessuno si sofferma su questo punto. Siamo stati veramente buoni amici, Sid era più vicino al nostro gruppo che a loro [i Sex Pistols]. Eravamo in uno squat insieme ed siamo stati gli unici che lo hanno difeso dagli attacchi dopo i fatti di New York. Era un ragazzo molto più complesso di quanto si pensi..>>
Mick e le donne
: <<All'inizio vivevo con mia nonna, sua sorella e sua cognata. Così vivevo con tre vecchie signore in Edgeware Road. Era una cosa completamente pazza, ero in una società completamente matriarcale. Sono stato circondato da donne di tutte le età per tutta la vita, ora ho tre figlie, una di 27, una di 7 e una di 8, più una figliastra di 22...>>
Il nuovo progetto dell'ex Clash
con
Tony James, ex
Generation X
e Sigue Sigue Sputnik, sono i

Carbon Silicon

.
Hanno uno zoccolo duro di fan che va oltre il riconoscimento dei nomi, e ci hanno regalato tre album e due EP sul loro sito web.
Carbon
Silicon oggi scrivono ancora canzoni capaci di
ispirare i ribelli di tutte le età.
www.carbonsiliconinc.com
Mick Jones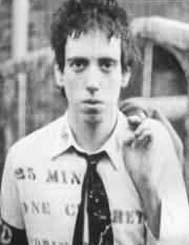 AKA
Michael Goeffrey Jones
Nato:
26-Jun-1955
A:
London, England
Gender:
Male
Razza or Etnia:
White
Sexual orientation:
Straight
Occupazione:
Musician
Nazionalità:
England
Executive summary:
The Clash
General Public
The Clash Guitar
Big Audio Dynamite Vocals, Guitar
Big Audio Dynamite II Vocals, Guitar
Libertines, Producer
Gorillaz, Guitar
Carbon Silicon Vocals, Guitar
Best Artist, Keith Richards
Risk Factors: Cocaine